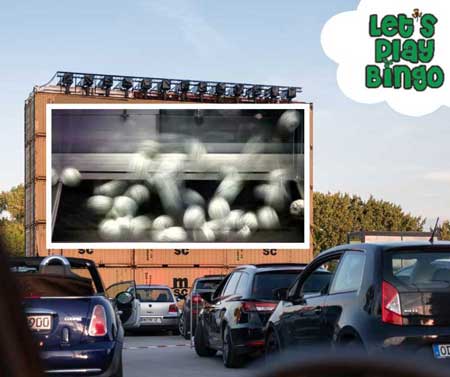 29/09/2020 0 Comments
Why Organise a Drive In Bingo Game?
During these strange and unprecedented times, when people are forced into self-isolation and lockdown, it's important to keep spirits high and focus on spending time and energy on friends, family, and community- in a socially distanced way of course!

Bingo is a great way of bringing the community together, providing a fun and safe outlet for people so socialise safely and forget about the world for a few hours. Here at Let's Play Bingo, we're passionate about bingo, providing all the supplies your company needs to host a drive in Bingo game.
What is Drive in Bingo?
Drive in Bingo games are large-scale bingo games that people can play from the safety of their car. Participants park up and play, beeping their horns if a win is achieved. It's a unique, fun, and engaging event for players of all ages. As well as being a fun social event, Bingo is a fantastic fundraising event, with a variety of types available including once-off MONSTER bingo events and weekly events. As a flexible game, Bingo can take place indoors, as a previously aforementioned Drive In or even online.
We Love Bingo
The team here at Let's Play Bingo are passionate about what we do and are happy to offer ideas and materials to successfully raise funds for your club or community centre. By using the fun game of Bingo and related products you can help your community enjoy a great day out while simultaneously raising great funds for your club. From our experience in the industry, we understand that there is a huge appetite out there for bingo of all kinds including Hall Bingo, Drive In Bingo, Zoom and Online Bingo.
How We Can Help You Organise Your Next Bingo Game
During these tough times, as we battle the Covid 19 pandemic, people are looking for a fun, sociable outlet, where they can meet friends at a safe distance and get their heart's racing as they wait on just that one number for a line or a full house! Let's Play Bingo have had the pleasure of working with a number of GAA and other sports clubs recently, advising them on setting up and running a commercially successful Drive In Bingo. One club has just completed their 10th event and they have managed to turn around their finances going from significant overdraft to an impressive cash surplus. Your team or company can do this too.
Use your car parking space, use your training pitch or liaise with a local factory and use their empty car parking spaces. Where there is a will there is a way! You could be the club hero today, helping to raise much-needed funds during this difficult time.
Get your Drive In Bingo underway now – talk to Let's Play Bingo.
Feed