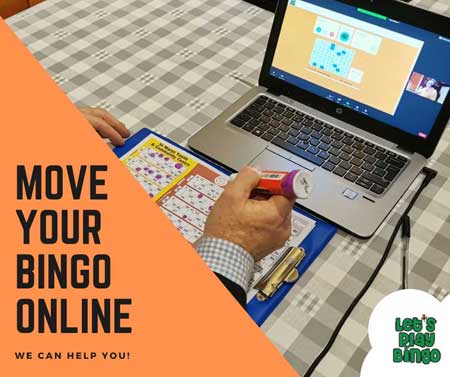 27/10/2020 0 Comments
How to run an online Bingo!
As we set into our second lockdown, Bingo Halls around the country must once again close their doors. While we're hopeful that by December they can begin to open up again, many of our customers have already made the move to Online Bingo!
At Let's Play Bingo we've helped dozens of Bingo organisers and sport and fundraising organisations such as the GAA set up and run successful online Bingo games. We'd be delighted to help you run a Bingo game online.
Online Bingo Game


If you'd like to know how to set-up an online Bingo game, we can:

Give you training on Zoom so you feel comfortable running the bingo game virtually
Give you details of how you can sell tickets for your online game via Clubforce or other ticketing platforms
Supply you with branded Bingo books that we can email on your behalf to your players
Supply you with our online Bingo caller that will allow you to seamlessly call numbers and check winners all from the comfort of your own home / club / office
And of course, we've a range of top quality bingo dabbers and bingo markers if you'd like to supply these to your players.
While the lockdown brings many challenges, don't let it stop you from safely running an online game of Bingo for your community or organisation.
Call us
today for a free consultation or contact us via
email
or through our
Facebook page
.
Eyes Down & Let's Play Bingo online!
Feed